WELCOME TO
Purrin's Commission SHOP!!!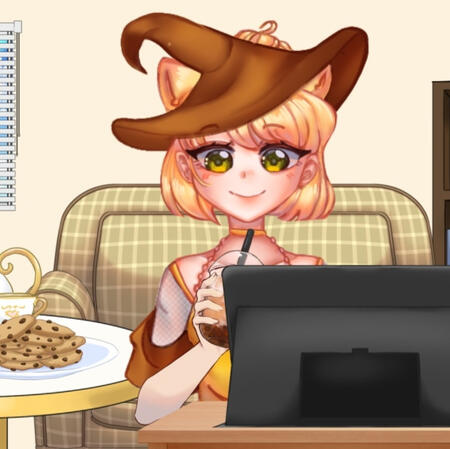 ---
Price List
Illustrations> Full Shaded
Chibi 30K
Half Body 50K
Full Body 70K> Colored Sketch
Chibi 15K
Half Body 25K
Full Body 35K> Doodle / Scribble 10KVTubing Stuff> Models
- L2D
Chibi 40K
Half Body 60K
Full body 80K-100K- PNGtuber / GIFtuber
Chibi 30K
Half Body 50K
Full body 70K> Assets
- Trakteer Treats 15K
- Name Title 10K
- Mascot / Icon 20K
- Watermark 15K
- Stream Props 10KThese items below are not available for purchase for short amount of time> Pixel Arts
- Flat 15K
- Shaded 20K> Emotes
- 10pcs 30K
- 20pcs 50K
Terms of Service
1. I have the RIGHT to refuse your order
2. Payment AFTER approved sketch
3. MAX revision 3X
4. Payment ONLY via trakteer.id
5. There's a queue system, I'll work in order.
6. Strictly FORBIDDEN to cut the queue, I won't reply to
"work on mine first" or
"do it faster, I need it now"
7. There is NO DEADLINE, estimated time about 1-2 weeks.
8. I might use your order as samples
9. Strictly forbidden to resell my drawings at any price!
10. Results will be sent via email and/or drive linkDO'S & DONT'S
Do :
All Genders
Kemono (Half Creature)
Furry
Gore / Blood
Slight NSFW & SFWDon't :
Mecha
NSFW
Old Ocs
Multiple Ocs ( order me one by one)
> First Customer of the Month got 50% Off!!> Buy 30pcs Emotes for 70K 60K> Fancy Vtuber Bundle! Got 10% Off!Include :
1. L2D Model Fullbody
2. Design Character Sheet
3. Full Body Shaded Illustration
4. Assets :
(1) Trakteer Treats
(1) Name Title
(1) Mascot / Icon
(1) Stream Props
5. 30pcs EmotesTotal : 310K 280K !> Budget Vtuber Bundle!Include :
1. PNGtuber / GIFtuber Model Fullbody
2. Chibi Shaded Illustration
3. Assets :
(1) Trakteer Treats
(1) Name Title
4. 20pcs EmotesTotal : 175K 160K!> Early Creator Bundle!1. PNGtuber / GIFtuber Model Chibi
2. Free Doodles & 10pcs Emote
3. Trakteer TreatsTotal : 75K 60K!
Emotes (Status)
9. Puyumi Araya
11. Hyoe
12. Gingitsune
13. Genko Miko Illustrations
1. Mizu (WIP)
2. Luvly
3. IchiSaved slots :
1. Kuin or Queen
CANCELING
Requirements, you can cancel your order ONLY if :- I haven't done any progress in a week (which I'll confirm it myself)- You haven't done any payments
(Even if you trakteer me only 1 purrin sandwitch)- Your order is worth more than 15K (Fewer than that, You can't cancel it)- Either or both of us haven't contacting each other for Months (or lost contact)If those requirements are fulfilled, then I'll send you all the progress I have made (sketch, concept, etc) thru email,
But first you need to pay 50% (Half) of your purchase worth. Ex : 20K > 10KWhy? Because..
1. People after you is waiting for the queue system, if you cancel this sooner or not take the slot at all, their order should've been done by now.2. I've take my time to think, preparing, and doing your order at best.
those half prices will at least payback my time and energy you wasted.For further negotiations, Please contact me for confirming. >>> Home